Due to work and university commitments, it's taken a little while to finish these. But, I can't help but be delighted with them. The Deathshroud are lovely models and have been a joy to paint – and it's been great to actually have such positive comments about them. I feel I've massively improved even over the space of months, and so hopefully you'll be able to see that paying off now!
I actually went and found a couple of old photos… when Typhus was first released, I naturally got him straight away – and this was perhaps the height of my painting skills at the time:
I hope that viewing both him and the Deathshroud now will be far more pleasing to the eye!
So, after building them and stripping Typhus, in December, they looked like this:
They were freshly prepared – newly glued, and all ready to be sprayed. It only took until March to get them sprayed… but I work quickly!
Here's the first WIP shot of the bunch: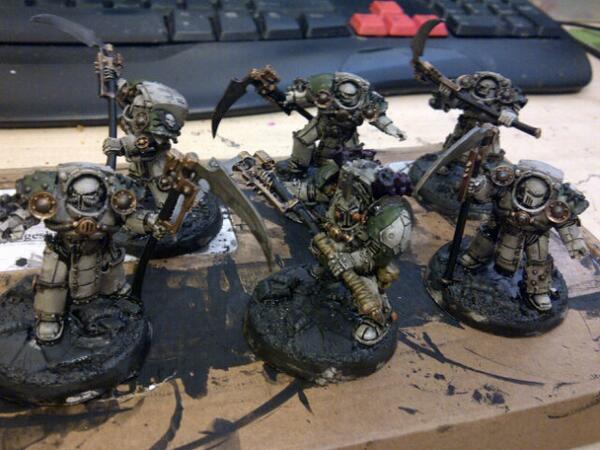 Naturally, there were a lot of things to tidy – and a revised shot before the second wash had them looking like this:
After this, I needed to tidy up the bases and do the detailing, give them their second wash and finally pick out the lenses with OSL. I actually toned it down for these, but I think the muted OSL still makes them look great!
Anyway, please have a look at the finished articles – bar perhaps the odd detail!
Hope you like them anyway – with all comments and criticism gratefully received!